Font Info plug-in for Adobe Illustrator
Displays the names and versions of the fonts available in Adobe Illustrator.
Price: Free
Requirements:
Adobe Illustrator CS5 for Windows
FontExpert is not required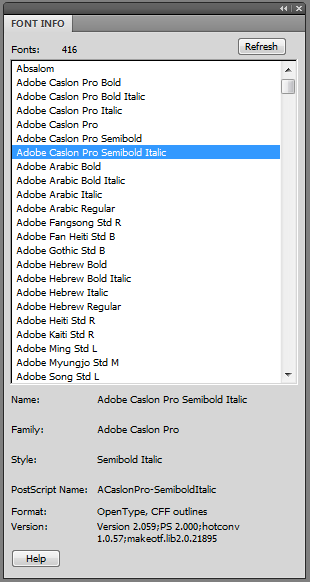 How to Install
Download the .zxp package file and double click it in Windows Explorer. Adobe Extension Manager CS5 starts and Font Info extension setup begins. Follow the setup instructions suggested by Adobe Extension Manager. Plug-in command appears in "Window - Proxima Software - FontInfo" menu of Adobe Illustartor.
Manual Installation
Download setup zip, extract the .aip plugin file from zip. Copy FontInfo.aip file to Adobe Illustrator's "\Plug-ins\Extensions" folder and restart Adobe Illustrator.